NEWS & ANNOUNCEMENTS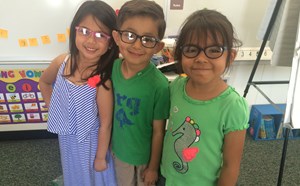 New this year, GGUSD has expanded its transitional kindergarten program to serve more 4-year-olds than ever before. If your child was born between September 2, 2016 through September 1, 2017, please register your child for our free full day kinder…
Congratulations to Cook Elementary School and all of our students, teachers, and staff! We have been recognized as one of 2022's best elementary schools in the nation and the state by U.S. News and World Report. In California, we rank at #279 out of…
Principal's Message
Dear Cook Families,
On behalf of GGUSD and Cook Elementary School, I am so excited to welcome you to the 2023-2024 school year!  I hope that all of you have had a wonderful summer break and stayed safe. As the principal of Cook Elementary School, I'm excited to embark on another great year of learning, growing, and fun with all of our amazing Cook community!
District Focus and Goals
Like all of our schools in GGUSD, we will be continuing to focus on our District Goals: Academic Skills +  Personal Skills = Lifelong Success!   As a staff, we are committed to 21st Century Learning to best prepare our students for a successful future.  Our academic program is rigorous, engaging, and aligned to the state standards.   Our amazing teachers use research-based strategies to develop students' skills in critical thinking, collaboration, communication, creativity, character, scholarly habits, and technology.  Our commitment to 21st Century Learning prepares our students for a successful future in whatever career path they choose. 

New for the 2023-2024 School Year 
As a 2023 California Distinguished school, we are excited to help students continue to thrive and soar academically, behaviorally, and socio-emotionally! One of our top priorities continues to support the social-emotional well-being of our students and families. This year, we will be supporting our students through our continued initiatives of being a No Place for Hate and PBIS school that promotes a positive behavior system that teaches, supports, and acknowledges students for their outstanding behavior at school, and welcomes diversity, inclusion, and allyship.  We will also be adding Elementary AVID strategies with a focus on goal-setting  to support our students in both their academic and personal skills.
School Communication
Parent communication and connection between home and school is another one of our top priorities at Cook. Our main communication tool is ParentSquare so please be sure that you have downloaded the app and are receiving all of our school and district communication.  If you have any questions or issues with ParentSquare, please feel free to call us here at (714)663-6251 for assistance.

You will also receive a weekly Wednesday Folder in your child's backpack every Wednesday.  Please be sure to check it, sign the form, and return it with your child the next day. 
Please also be sure to register and update your  GGUSD Aeries Parent Portal account. Through the use of Parent Portal, parents have the ability to be notified of their child's new teacher, update student emergency records, print their child's report card, and download important documents directly from the portal. 
Our school office team is also always here to help as well. Please make sure that we have your updated and current phone numbers and emails, so you can stay informed on all school information.
School Campus Safety
As a reminder, we are a closed campus to support student safety and campus security.  While we welcome our families onto campus for many school events during the school day, please be sure you check in at the front office before entering campus to help keep everyone safe.  
It is my pleasure and honor to work alongside the students, parents and staff at Cook Elementary School. Together, our students will continue toward academic and personal success!
Sincerely,
Mrs. Sherry Sanborn, Cook Elementary School Principal
Our School
At Cook Elementary School, we are committed to equipping all of our students with the academic and personal skills for lifelong success. Our school has a long record of academic excellence and consistently outperform the state and county average on standardized state testing. In 2016, our school received the prestigious National Blue Ribbon School from the United States Department of Education. We also received the STEM Honor Roll from the CBEE Campaign for Business and Education Excellence. Alongside this award, we received the Title I Academic Achievement School and California Distinguished School Awards.  In 2018, Cook Elementary School was recognized as a California Distinguished School and named to the 2017-2018 California Honor Roll for high academic gains and student success.  Most recently, in 2022, Cook was named one of U.S. News & World Report's "Best Schools" among schools rated across California and the United States.   
Our exceptional staff, dedicated students, and engaged parents all contribute to this legacy of success at Cook Elementary School.  We offer academic and social emotional interventions to help all students succeed in addition to enrichment and extended day programs.   
Cook's dedicated PTO (Parent Teacher Organization) organizes many fundraising initiatives to provide for fun school assemblies, family events, educational field trips, and new and exciting opportunities for our scholars.  Any parent interested in joining and/or volunteering is encouraged to call our school at (714) 663-6251 or sign up using the Volunteer Link provided on our weekly ParentSquare Newsletter. 
Thank you for visiting our site and we look forward to sharing unforgettable experiences this school year!